Location
Nong Chang, Uthai Thani Province
Informations about the country
Nong Chang is a district of Uthai Thani Province, situated in northern Thailand. 96 villages compose the district, having a population of ca. 45'000 inhabitants (2008). There are restaurants, markets, cybercafés, etc. in the city but the district per se is not very touristy.
However, it is located close to the historical park from Ayutthaya (170 km), at 30 min. by bicycle from Uthai Thani, capital city of the province, and Bangkok is reachable in 3 hours (250km).
Supervision
Pornpaka Palajit (Theow) lives in Jan & Oscar's home.
She is the coordinator or the volunteer program. She is the person who will introduce you to the schools, students and teachers.
Photo: Michèle Bise, Sombut Singkaew, Pornpaka Palajit (Theow)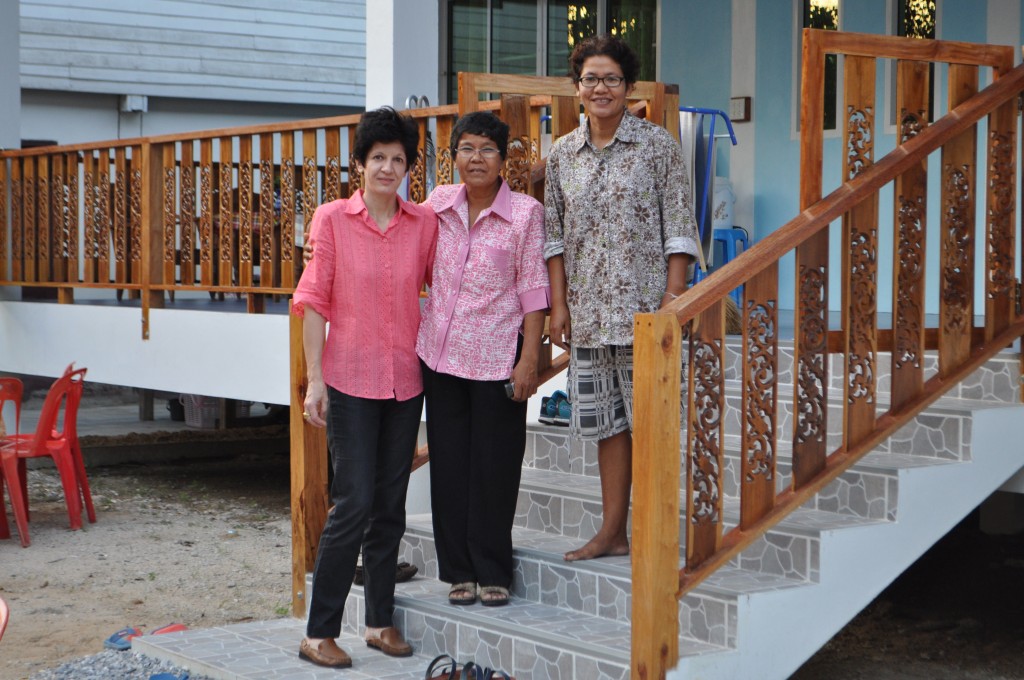 Support
A specific program of assessment and support of the volunteers is set. It allows to create an independent and confidential space of discussion, to warn or to manage possible small or big difficulties which could be met before, during and after the stay. It is set up and supervised by a psychologist, psychotherapist FSP (French, English, Spanish).
Furthermore, support by previous volunteers is also offered. There is a dedicated Facebook page.
This program of support starts by a phase of evaluation to fit at best the needs for all, including premises and profitable schools.
A form will have to be filled in before the departure.
Follow up in the schools
You will be asked to update a class book (on Google drive) to allow the follow-up of the workshops for the volunteers coming after you.
Type of school and level of English
The school lies in one of the villages of the district, close to the rice fields. There are only ca. 70 students from an age range from 4 to 12 years old. Their level of English is not very high, though it has been increasingly improved thanks to the volunteers.
There is a restaurant in the school and free-access Wi-Fi. It takes 5-10 min by bicycle to go to the school from the accommodation.
Logistics 
Since a team is sent there to help people, it cannot be expected from the inhabitant to pay for the volunteers' costs. Thus, a compensation of CHF 350.- per month will be asked.
Payment in favour of :
Fondation Jan & Oscar
Banque Cantonale Vaudoise
1001 Lausanne – Suisse
IBAN CH 39 0076 7000 L510 9380 9
SWIFT/BIC : BCVLCH2LXXX  
The on-the-spot persons in charge offer nevertheless the possibility of organizing on weekends the visit of the main city, Uthai Thani, other touristic regions such as the former royal city of Ayutthaya (170 km). It is also possible to plan a weekend in the pearl of the North, Chiang Mai.
Flight prices
February: ca. CHF 1200.-
August: ca. CHF 950.-
Schedule
Mo-Fr 09:00-12:00 & 13:00-16:00
Size of the team
2 – 4 (maximum)
Availability of the project
All year (except in April and May because of school holidays and 2 weeks in October). The team should stay min. 4 weeks. We recommend an even number to be two by class for teaching 2 or 4.
Volunteers' section – Protected
This page is conceived for the former and future volunteers of the Foundation Jan and Oscar in Nong Chang, Uthai Thani, to share the work they have accomplished in the schools. Link: here