Collège Champittet Foundation Bal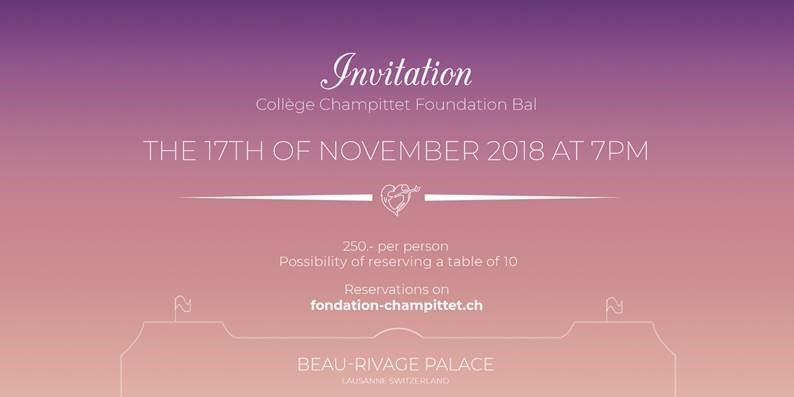 A glamorous, charitable and joyous moment! We would be honored by your presence at our
Collège Champittet Foundation Ball
Saturday, November 17th 2018 at 7pm at the Beau-Rivage Palace in Lausanne
Evening dress
The funds raised will go to the Jan & Oscar Foundation and its scholarship program for young Thai students
from disadvantaged families who have been supported from a very young age by the same foundation. Let us mention, the Jan & Oscar Foundation was created by Mrs. Laurence Pian following the loss of two of her children, including Jan who was a student at Champittet, in the 2004 tsunami.
The evening is organised under the patronage of Mr. Bertrand Piccard and Mrs. Laurence Pian.
Also giving us their support:
Madame Nathalie Seiler-Hayez
Monsieur Philippe Rathle
Madame et Monsieur Véronique et Christophe
de Kepper
Madame et Monsieur Alexia et Benoît Greindl
Madame Brigitte Violier
Mademoiselle Oriane Piccard
Madame Daliah Gonset
Monsieur Marc Ehrlich
Monsieur Nicolas Leuba
Do book your tickets without delay on www.fondation-champittet.ch
You also have the possibility to book a table of 10 people. The registration deadline is 31.10.2018.