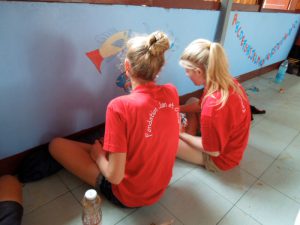 Building a classroom with accommodation for the teacher at the Ban San Tor School in Chiang Rai province
The village of Ban San Tor is situated some 36km from Chiang Rai, in the mountains of Northern Thailand. Its inhabitants belong to a mountain tribe named Lahu. The road to the village is unmade up and therefore accessible by 4×4 vehicles only. There are around 100 inhabitants. The school has around 20 pupils, from nursery to the 6th year (12 years old) and older children attend school in a neighbouring village.
The construction of a small building to include one classroom and accommodation for the teacher was initiated by the students of the University of Engineering in Rajamangala in Chaing Rai. The students have already built several buildings of this type, two of which were supported by a group of Champittet students in October 2009 (Khun Ta) and in October 2010 (Ban Cha Ha).
Students at Champittet had the opportunity to work alongside the Thai university students and help with the construction during 10 days in April 2012. The project gave students a unique and enriching experience.