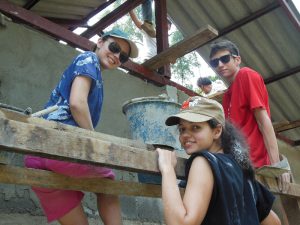 Construction of a classroom with accommodation for the teacher at the school of Ban Huay Sai (Province of Chiang Rai)
The village of Huay Sai is situated approximately 160 km from Chiang Rai in the mountains. Its inhabitants come from the hilltribe named Akha. The road of 20 km which leads to the village is accessible with a 4 wheel drive vehicle, with luggage and food. Around fifty families live in the village. The school of the village welcomes children of the nursery school.
The construction of a small building including a classroom and accommodation for the teacher was launched at the initiative of engineering students engineering of Rajamangala University (Chiang Rai). We have already participated in the construction of three schools of this type these last three years.