Notre mission
Le 26 décembre 2004, le tsunami frappait l'Asie, provoquant la mort de milliers de personnes. Parmi eux, Jan, âgé de 12 ans et Oscar, son petit frère âgé de 8 ans.
Immédiatement après ce drame, un projet humanitaire est lancé dans un élan de solidarité à la mémoire de ces deux enfants décédés.
La Fondation Jan & Oscar a ainsi été formellement constituée le 29 juin 2005.
Le but de la Fondation est de permettre la scolarisation des enfants défavorisés de Thaïlande et d'y contribuer concrètement par la construction ou la rénovation d'écoles ainsi que par des bourses d'études. Les dons reçus sont donc utilisés en intégralité aux actions menées sur le terrain grâce à la généreuse contribution de nos partenaires qui aident à couvrir nos frais de fonctionnement.

Board of the foundation
President- Mme Laurence PIAN,  Jan and Oscar's mother
Vice-president - Dr Thierry PACHE
Treasurer - Me Yves BONNARD
Members :- M. Armand JOST, honorary consul of Thailand
- Mme Caroline JURGENS,  operational director
- Mme Dominique BRUSTLEIN
- Mme Sonya MARTIN PFISTER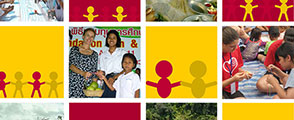 Support us
Want to support our cause?
Discover our bracelets